Color Delight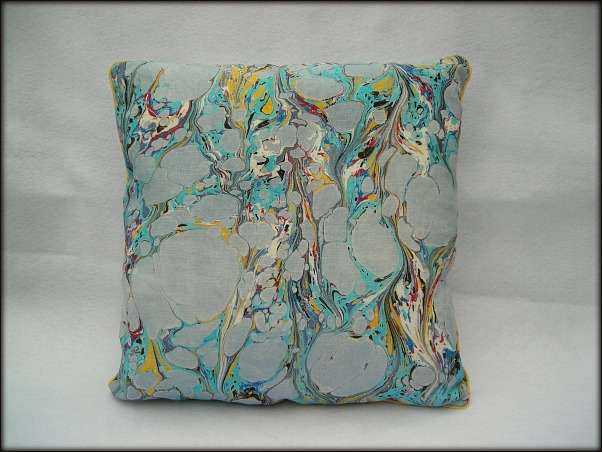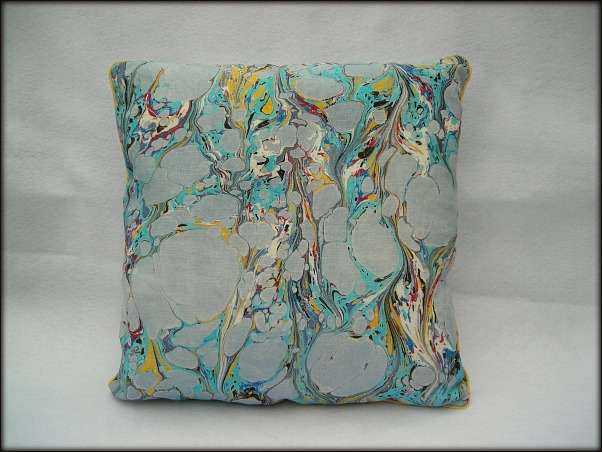 Color Delight
The idea to start making accent pillows from my marbled fabric came when I fell so hard in love with some of my pieces, I couldn't bear to cut them up ~ but knew they deserved to be displayed and enjoyed!
These accent pillows are truly functional art at its best.
The marbled artwork incorporated into this accent pillow is a traditional pattern I've started to obsess over lately called Gloster. And I love this pattern with a ton of colors ~ in this case red, yellow, turquoise, white, a few different blues, and a smattering of black ~ because they get squished on the bath and come out looking like rivers of bold beauty that I want to float downstream on.
And so goes the joys and beauty of marbling.
The Details:
* This is a one-of-a-kind accent pillow made with hand-marbled fabric!
* Size: approx. 16" long x 16" wide
* Front materials: Marbled linen with cotton piping detail.
* Back materials: Cotton batiste with 5 vintage dime-store buttons.
* Insert can be removed for cleaning.
* Hand wash or dry clean.
{NOTE: If shipping rate you are charged is more than actual cost, I will refund the difference!}